Mannequins
Mannequin Postage Costs
I ship WORLDWIDE! All deliveries are fully traceable and require a signature at delivery.

Costs are as follows
UK  £18
USA £60 
Canada £60 
Australia £90 
​
For all other destinations, please email for a shipping quote.
Packing
All mannequins are carefully wrapped in bubblewrap and boxed in a strong, double walled, box for safe delivery. Mannequins are sent dismantled and require a small amount of reassembly ie legs will need to be attached to the base.
Fabric
I only use quality fabrics and materials to create our mannequins! The fabrics we choose are both stylish and decorative. Some have been chosen to stand out whilst others to create a soft canvas for clothing.

​If you have a specific fabric in mind, please do contact me for suitability and a quote. Fabric placing my vary slightly from the photos. If you require fabric samples, please do ask. If I have them in stock I am more than happy to supply them.
Stand colours
Stands are professionally painted and are available in black, ivory or natural beech.
Corset & Laced or Flat Backed​
 ​The back of your mannequins can be tailored with a corset & laced finish (not available on all mannequins) or hand stitched on one side creating a flat back.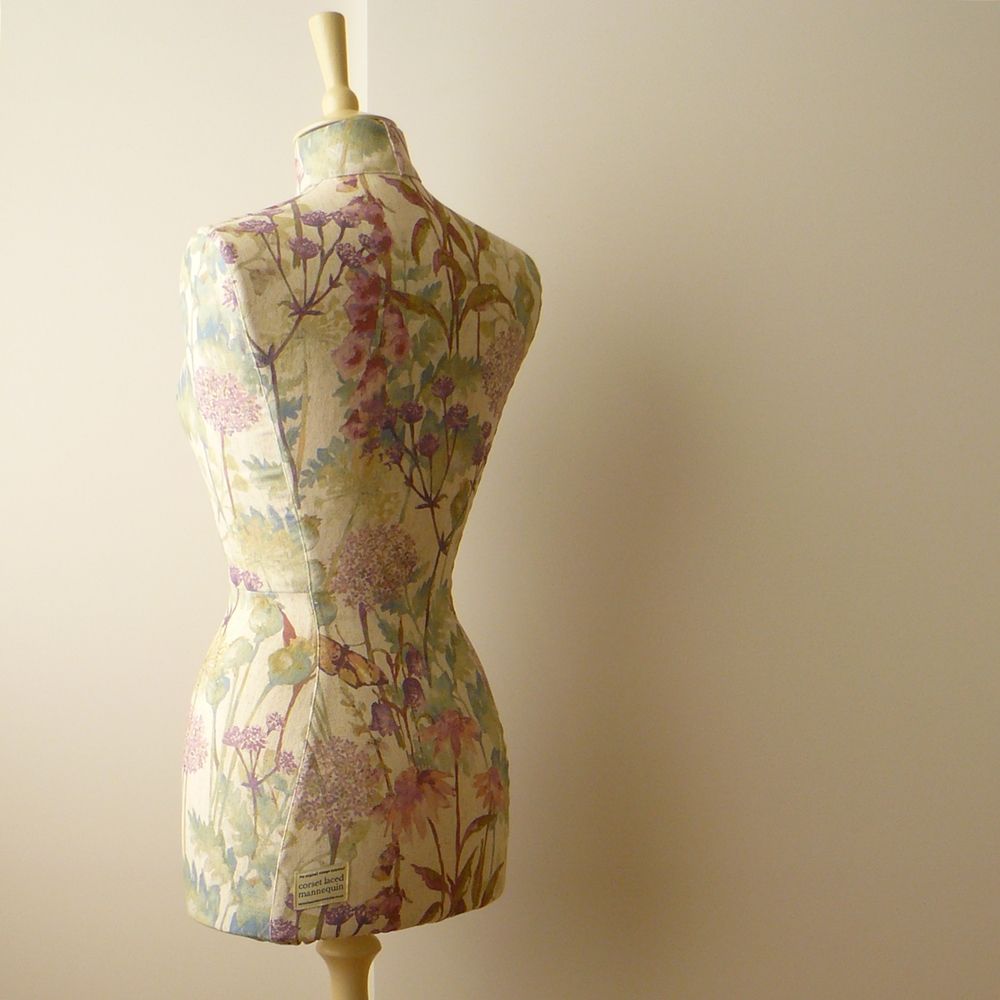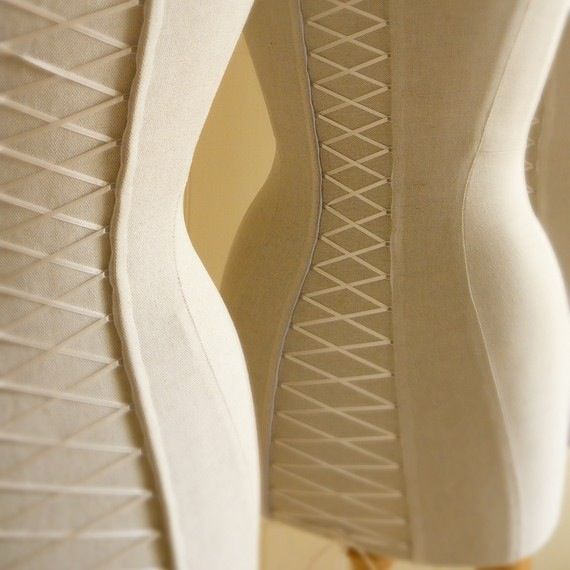 Corset & Laced back version
Method
All my mannequins are tailored by me. Each mannequin takes considerable time, with many fittings before she is ready for fastening up at the back with my own design, the corset lacing or hand finished flat back. All seams are top stitched giving a neat, tidy and strong finish. ​

​All materials used, where possible, are sourced from within the UK. With the exception of the mannequin body, all materials used are natural products.
Mannequin Sizes
All mannequins are height adjustable and longer poles are available if you need a taller mannequin. All measurements below are approximate.
Female UK 8/10 (USA 6/8)
33.5" (85cm) bust
22" (56cm) waist
33" (84cm) hips
shoulder height 54"-57"

Female UK 10/12  (USA 8/10)
​36" (91cm) bust
24" (61cm) waist
36" (91cm) hips
shoulder height 54"-57"

Wasp Waisted - one size
35" (89cm) bust
21" (53cm) waist
39" (99cm) hips
shoulder height 54"-57"

Male - one size
​chest 38"
waist 33.5"
hips 40"
shoulder height 56" to 60"

Baby 0/6 months
​chest 18"
waist 17"
hips 19"
height 22" to 27"

​Child 3/4 years
​chest 23"
waist 21"
hips 25"
height 35" to 42" ​

​Child 6/8 years
chest 26"
waist 22"
hips 26"
​height 36" to 43"

Child 10/12 years
​chest 30
waist 26"
hips 32"
height 44" to 57"